Welcome back! After a quiet summer in the library, our staff is excited to see all the energy emanating from our students and faculty as they prepare for the new year. Our purpose is to provide the resources, training, and spaces that enable you to find and create the information needed for your classes and research. You'll find that our entire staff is happy to answer your questions and accept your feedback on our services and collections.
Returning students will notice a few changes that we've made over the summer. ITS has expanded its presence in the building: creating a new teaching lab on the first floor and moving their student computers and editing equipment up to the library's third floor. Mac users will be happy to see those computers interspersed among the Windows PCs in the Information Commons. We've moved a dozen of our Windows PCs down to a corner of the first floor, creating a new quiet computing space. We've also cleared shelving out of another corner of the first floor to add more quiet study spaces under the skylight windows.
Speaking of changes, this is a great year to celebrate our past! Trinity is recognizing its 150th year as a university, while the Coates Library acknowledges its 40th year.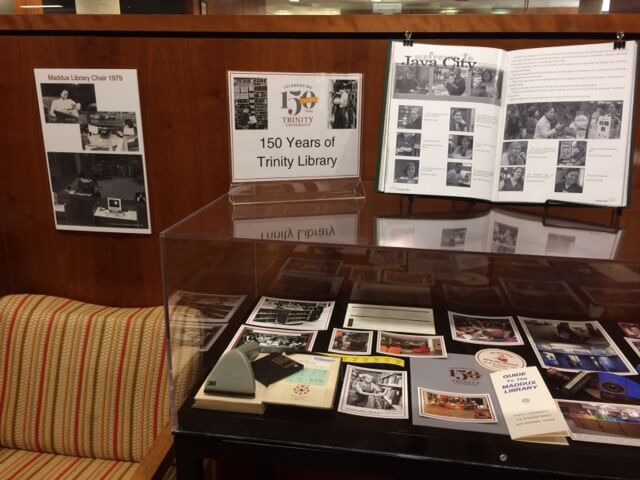 Check out the historical displays for both anniversaries: discover what a Quonset hut library looked like, learn why librarians asked all students to check out as many books as they could manage, and check out the pics of the always fashionably attired staff.
What hasn't changed over these years is our commitment to providing you with the best resources and services that we can manage. Students who have asked for assistance from staff report that their resulting papers or projects have been substantially improved. Take advantage of the personal attention you can receive at the Coates Library and get to know some of the librarians and other staff! As always, feel free to stop by my office or send me a note about any concerns you may have about your library.