We sat down with Peyton Tvrdy,  Mellon Summer Undergraduate Research Fellow for Summer 2020. With the help of Librarian Elizabeth Poff, Peyton researched, cataloged and created a digital gallery of James Sicner's mural "Man's Evolving Images, Printing and Writing". We asked her about the mural and her experience working on it this summer.
What was your process for researching the individual pieces of the mural?
My process for researching a piece of art usually follows a simple pattern. First, I identify any standout parts or the art's subject. The key is finding what makes that particular piece distinct, especially if the art depicts a common object, like a column, or if it depicts a figure with lots of representation, such as Jesus. It is best to try many different websites, such as Google Images, Google Arts and Culture, Artstor, and even Pinterest. Sometimes images are found immediately if the search criteria was specific enough to that piece. Other times, images take days to find or are never found at all. This process demonstrates the importance of metadata in allowing others to find your website.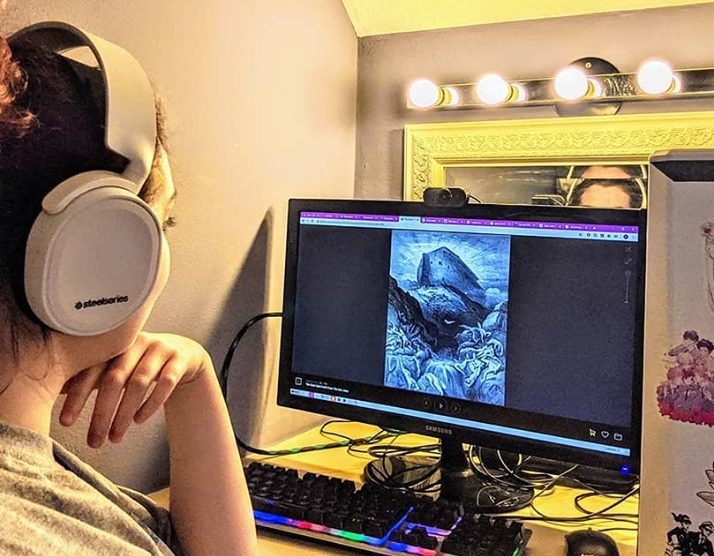 What was the most difficult part about cataloging the mural?
What I struggled with the most was knowing that every single piece of art, no matter how generic or small, existed somewhere, someplace in a book. Knowing that the art exists drove me to find the original for as many pieces as I could, but it was disappointing to admit defeat when a piece couldn't be found. But I know with enough time, effort, and help from others, one day this mural will be completely categorized.
Do you have a favorite piece from the mural? 
My favorite section would have to be the front, left-side of the mural. This section features three large, separate works of Albrecht Dürer alone. This section has so many pieces that, upon first glance, it doesn't seem like they are connected at all. But with some closer inspection and knowledge of Dürer's works, it becomes clear that all the pieces are a part of the same work of art or are connected to each other. It was definitely the most surprising and exciting part of the experience.
Tell us a little about yourself.
I am a History and Ancient Mediterranean Studies major and graduate this fall. After leaving Trinity, I plan to obtain a MA in Library and Information Science to become an archivist or metadata specialist.
If you could have a super power, what would it be?
I would choose to have invisibility, so that every time I embarrass myself I can actually curl up into a ball and disappear.
To learn more about this project and to view the mural please visit the Mural at Coates Library website.