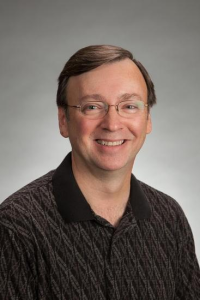 Chris Nolan retires this month after 35 years of service at Coates Library. Professor Nolan has been a faculty member and librarian at Trinity since 1987, succeeding in rank and responsibility until being appointed University Librarian in 2017. Over the course of his career, Chris taught hundreds of students the foundations of academic research, helping them become adept seekers and users of information in all its varieties. His scholarship comprises numerous reviews, scholarly articles and a book, Managing the Reference Collection, published by the American Library Association. A quick wit, Chris's sense of humor is legendary, if occasionally groan-inducing. His brand of servant leadership has helped many colleagues achieve tenure at the university and lasting professional satisfaction thereafter. His influence on the library will be felt in ways large and small for years to come.
In 1991, Chris and the rest of the staff posed for a photo at the reference desk doing "all the things you shouldn't do in public at work" including eating popcorn, drinking soda, and doing your makeup!
In commemoration of Chris's 60th birthday, Librarian and colleague Michael Hughes spoofed a ditty called "Charlie Kane" that features in the 1941 classic Citizen Kane. We present the lyrics here again in tribute to Chris's idiosyncrasies and sartorial predilections, but most of all to his kindness and integrity.
Nolan's Song
There is a man,
A certain man,
And his polos are as rainbows that begird the land.
Who is this one?
This favorite son?
Who was never known to leave alone a rotten pun.
Who loves to jape?
And stays in shape?
Who with care will part the hair that adorns his pate.
With wealth and fame,
He's still the same.
— Wait, whaddya mean he's not the guy who directed Inception?
What is his name?
It's Chris Nolan!
(Professor Nolan!)
He doesn't like 'Professor,'
He likes 'Chris Nolan.'
Cheers to Chris Nolan and best wishes on his retirement!