Is "library anxiety" why students don't like to ask librarians for help?
It's totally a real thing that librarians research: students having "library anxiety." In the 1970s and 1980s, students used the terms "phobia," "nightmare," "dread," and feeling like "a lost child" or a "knucklehead" when describing how library research made them feel (Mellon, 1986). In the 1990s, we see the development of an instrument called the Library Anxiety Scale, and scholars determine that "barriers with staff" and "affective barriers" are two of the five key factors in library anxiety (Bostick, 1993 & Jiao and Onwuegbuzie, 1997). Basically that means that students are anxious about using the library because they think that (a) librarians are intimidating and unapproachable and kind of mean plus we seem too busy to help them, and (b) students think they are the only ones who are are too dumb to use the library and feel like everyone else knows how to do everything so they must really be a knucklehead. In the late-90s and early 2000s, librarians start talking about at-risk students, students at non-U.S. colleges and universities, perfectionism and library anxiety, plain old anxiety and library anxiety, and information technology and its effect on the library-anxious student. The most compelling article on the topic I read this year was about shame and library anxiety (McAfee, 2018). It definitely made all of us Trinity instruction librarians pause and think about if we (the librarians) are doing stuff to make you (the student) feel shame. Ouch.
Over the last decade or so, I have witnessed librarians fighting the tide when it comes to making us seem less scary, more welcoming, more friendly. I remember the marketing campaign librarians ran at NYU's Bobst Library around 2007 called "Ask A Librarian," where we used posters, bookmarks, mousepads (hey! It was 2007!), and general signage to encourage, remind, and practically beg students to come to ask us questions. Ask us something. Anything. Pretty please?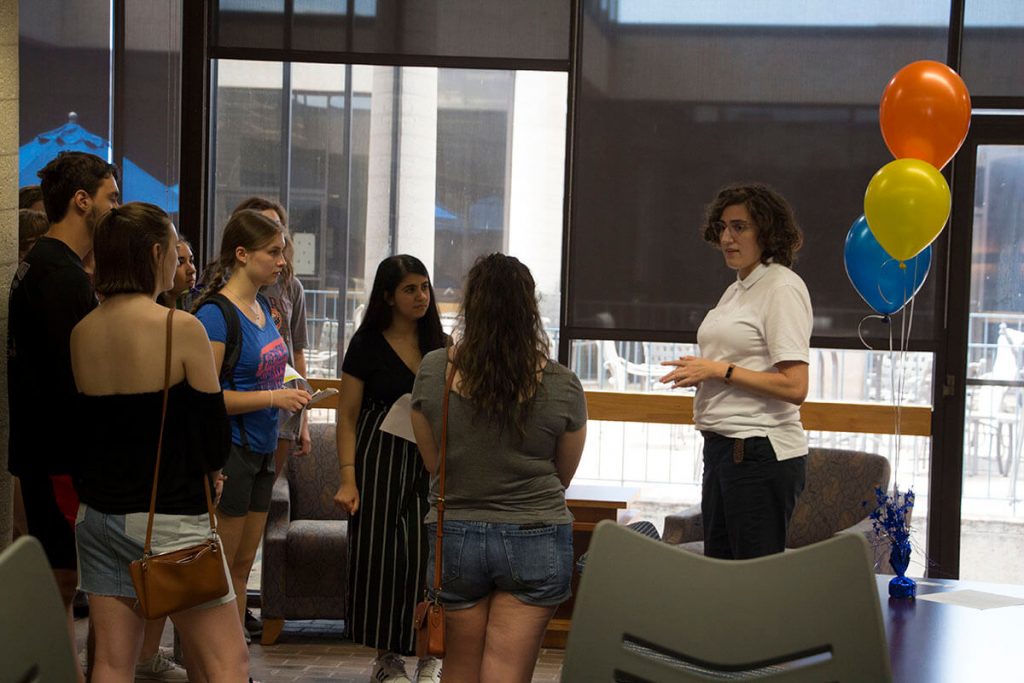 Even this very blog post was something I was asked to write so that we could focus on research appointments, in what I assume is an attempt to combat a certain strain of library anxiety in the Trinity student population. Students should be meeting with us librarians! Maybe they don't understand how friendly we are? How can we get students to be less intimidated by asking the questions we know they have?!!
So tell me. Send me an email at agallin at trinity dot edu. Slip an anonymous note under my door (but not in a creepy way). Why don't students naturally come to visit a librarian? Is it because you don't know you can? Is it because of anxiety or feeling like you shouldn't have to ask for help? Is it just because you've been doing fine on your research without us so why bother? Lemme know. I'm really curious.
References:
Bostick, S. L. (1992). The development and validation of the library anxiety scale.
Jiao, Q. G., & Onwuegbuzie, A. J. (1997). Antecedents of library anxiety. The Library Quarterly 67(4).
McAfee, E. L. (2018). Shame: The emotional basis for library anxiety. College & Research Libraries 79(2), 160-165. Retrieved from https://crl.acrl.org/index.php/crl/article/view/16604/18604
Mellon, C. A. (1986). Library anxiety: A grounded theory and its development. College & Research Libraries 47(2), 160-165. Retrieved from https://crl.acrl.org/index.php/crl/article/viewFile/14195/15641