In celebration of American Archives Month the San Antonio Regional Archivists (SARA) is hosting the first-ever San Antonio Archives Bazaar. 
The event will take place on Saturday, October 7th, 2023 from 10 AM-2 PM, at Brick in the Blue Star Arts Complex.
The archives bazaar is a free event open to the public, designed to showcase dozens of diverse archival collections from all over the San Antonio region. Over 20 archival repositories have signed up to exhibit materials.  To see a complete list visit the exhibitors section of the website.
The event is sponsored in part by Humanities Texas, Society of Southwest Archivists, San Antonio Public Library, Trinity University, UTSA, and Texas Digital Library.
The SARA committee for the Archives Bazaar has built roster of speakers, creatives, and archivists that include professors in public history for area universities; musician and storyteller Anthony Prater, performing his historical concept EP El Camaron; as well as community archivists from the American Indians of Texas at the Spanish Colonial Missions, the Mexican American Civil Rights Institute, and the San Antonio African American Community Archives and Museum to share their experiences on archiving and community building.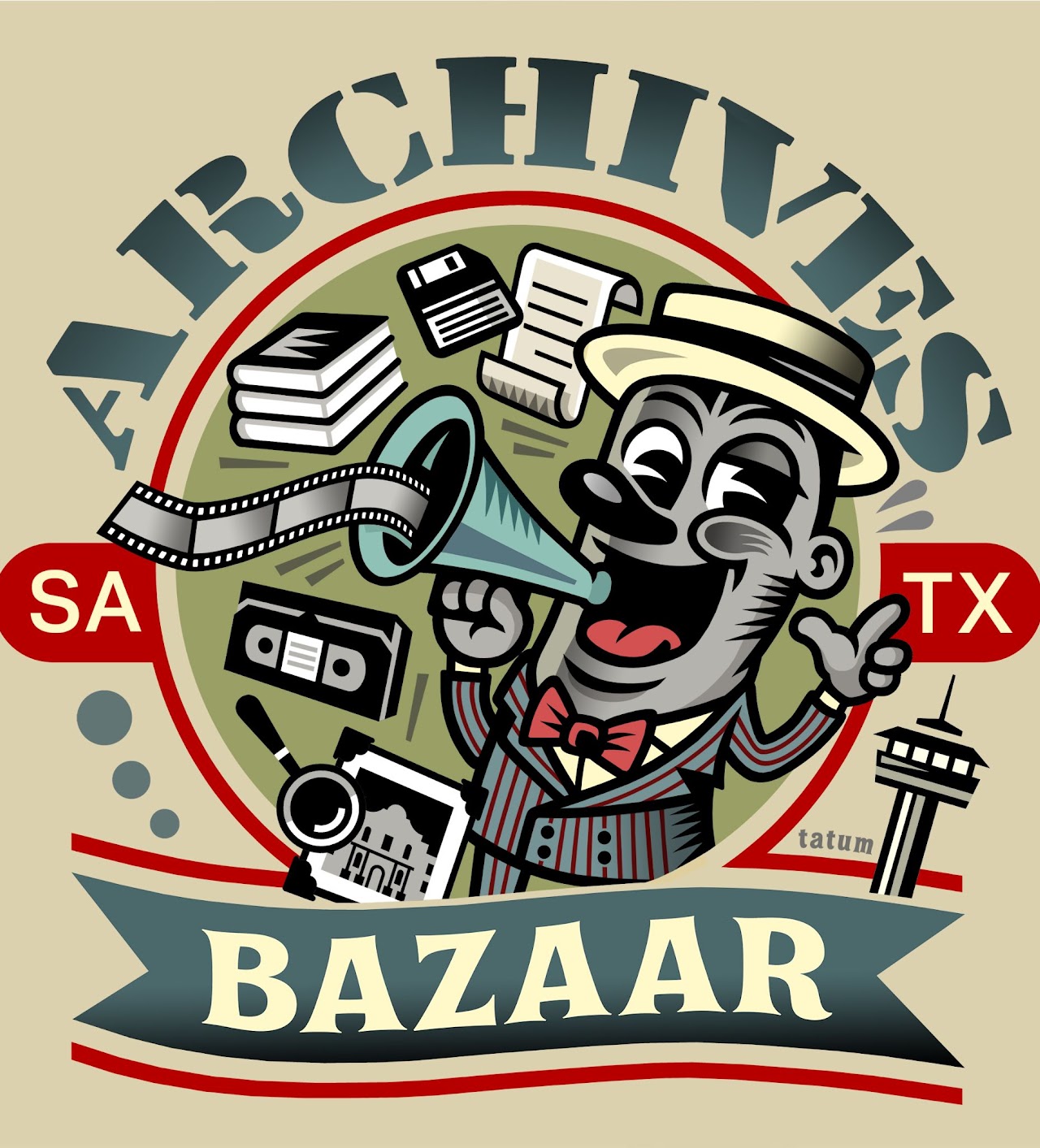 San Antonio Public Library will offer digitization stations and the Texas Archive of the Moving Image will feature film footage of the city.  DJ Rambo of Friends of Sound record store will be spinning West Side Sound classics.  There will be food vendors and the Brick bar will open.
A fun time for all in attendance, as they peruse the local treasures and resources available across a broad spectrum of local archival repositories.
__________
As the chair of the SARA Archives Bazaar committee, the University Archivist for Trinity, and someone who was born and raised in San Antonio, I am so incredibly proud and excited for this event to take place.
I thought I would take this opportunity to talk about the amount of work it takes to put on such an event.
The committee began planning the event back in the spring of 2022.  There was a small group of us in SARA really committed to hosting this event as we'd seen our peers in Austin, Houston, and DFW put on their own bazaars.  We met on a monthly basis and tackled various aspects that make a functioning event.  We had sub committees on venue space, archives registration, social media and marketing, sponsorship, programming, and volunteers.
We first reviewed several potential venue spaces and settled on the Brick at Blue Star.  We were able to secure a community programming event through the Society of Southwest Archivists that covered the venue rental fee.
---
Next, which I believe was our toughest hurdle, was finding more sponsorship and funding.  This was extra challenging because SARA isn't an official non-profit with a bank account.  Most grants require that.  I then volunteered for me, representing Coates Library, to be lead in applying for a Humanities Texas Mini Grant.  We needed to ensure cost-share so I worked with people on the committee from San Antonio Public Library, UTSA, and the Texas Digital Library to commit to also supporting the event.  Thankfully with awarded funds through Humanities Texas, we were then able to buy print promotional materials such as flyers, posters, banners, and brochures; graphic design by local artist Robert Tatum; radio and digital marketing; and supplies for the event such as lanyards for the volunteer crew.
The archives registration committee worked to identify contacts of regional archival repositories and sent out an invitation to participate.  They have been in charge of sending  registered archives updates about the event in preparation for the day off.
With registration we asked that repositories submit photos for social media.  The social media and marketing team established an Instagram account and have been creating posts featuring archival exhibitors and presenters for the lead up to the event.  We also created a Facebook event page, a page on SARA's Google Site about the bazaar, and a linktr.ee to pull all of our content together.  Radio spots on KRTU, KSYM, and TPR will air leading up to the event.
Programming, I think, was our biggest consideration.  We wanted to show how people work with and give space to archives.  Collectively we came up with a lot of ideas, and there were some bumps along the way, but in the end I think we have a really amazing line up.  In addition to featuring the archives exhibitors, having a panel with community archivists that will talk about their work, a musician that gathered inspiration from a historical event and researched to create music, a group of public history professors and students talking about how they are shaping collective memory through projects, a DJ featuring his own personal archive of San Antonio music, a preservation lab, and the screening archived film footage really encapsulates what it means to work with and be with archives.
---
Once again, I am so looking forward to our first archives bazaar.  It is such a unique opportunity to learn about the city you live in. I hope you can make it out!
Connect with us!