While most of us are familiar with YouTube and Netflix, many of us have yet to try Academic Video Online (AVON) from Alexander Street Press. Have you tried AVON?
While some of the other streaming media platforms are fantastic for leisure viewing, AVON has a variety of material with curricular relevance: documentaries, interviews, feature films, performances, news programs, and raw footage.
As a Trinity faculty, student, or staff you have unlimited access to more than 67,000 videos on AVON that come exclusively from top distributors like PBS, CNN, Collective Eye, BBC, A&E, and many more.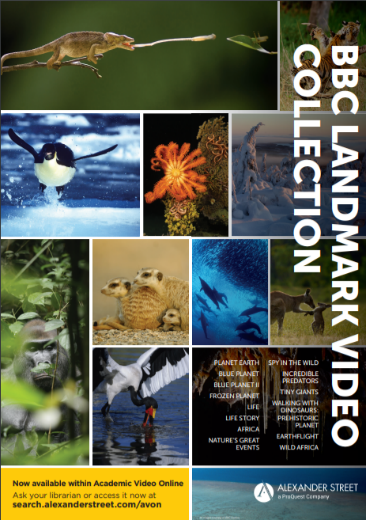 AVON can really help you think "outside the textbook" and dive deep into additional content and sources. Here are just a few tips as you begin to navigate through the platform:
Videos are organized by Channels. You can go directly to a "channel" by clicking on American History, Anthropology, Biology, Business, Theatre, Writing, etc.
When the video player launches, you will experience the video in a cinematic view. Most of the control bar options will be on the bottom right corner.
The ability to cite the video using copy/paste in APA, MLA, Chicago or full citation is available using the "cite" option on the top of the screen.
The top of the video player will allow you to navigate through various sharing options, transcript details, and more.
Videos have increasingly become popular as a highly effective medium for both teaching and research. Faculty are tapping into streaming media resources as a way to conduct their work and although print materials are still commonly used, content diversity continues to rise in importance.
So go ahead and enrich your research by discovering the streaming content that is available to you through the library!