This academic semester, and perhaps year, will be an unprecedented experience for students, faculty, and staff alike. Some of you will be taking classes here in person, while others will be learning remotely. The librarians and staff at the Coates Library will be creatively working to provide the best assistance we can during this time, while also practicing and encouraging the most appropriate actions to keep you safe and healthy. What hasn't changed is our commitment to three basic functions that the library provides to you: collections, spaces, and personal assistance.
The Coates Library has a notable collection of books and other physical media, as well as a wealth of ebooks and ejournals, online databases, and streaming media resources. Those of you on campus will find that you have a free hand in browsing those physical collections, but also will note that we may be quarantining materials for a few days after each use. For those of you working remotely, we expect you will rely heavily on our electronic resources, but library staff are prepared to provide some limited scanning of book chapters and journal articles from our collections that we can send to you, and our interlibrary loan staff can obtain articles we don't own from other libraries.
The library building will continue to serve as an academic space for study or working with other students (following health protocols!), and even a spot where you can take your laptop and participate in an online course. Starbucks will be open to provide an opportunity for refreshment and refueling. When you enter the building, you'll note many signs directing traffic and indicating which study spots are available based on social distancing standards. Your health is paramount to us, so please protect each other by following these guidelines.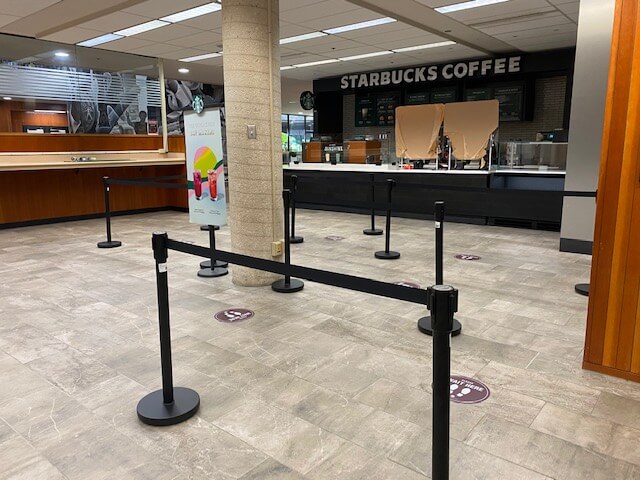 Finally, and often most important, the library staff considers personal assistance to be at the core of what we do. Reference staff at our main service desk are always happy to provide some quick help in finding a resource or figuring out how to best use a scholarly database. Liaison librarians are each designated as subject experts for certain departments and will be glad to set up appointments to provide research assistance in much greater depth. Most of our librarians will be working remotely this fall, so expect your appointment to be via Zoom. Don't hesitate to meet with our librarians for help; we set up hundreds of appointments each year, but many students never use this terrific resource. We're here to help you succeed!
Please take advantage of our first-rate library and staff in your work at Trinity, and let us know if you have suggestions or concerns. We're happy you're here–in person or virtually–and look forward to working with you.
Chris Nolan
University Librarian & Professor