We had a chance to chat with Sara Kate Phelps, Trinity senior and library student worker. She shared advice about using the library, tips for preparing for midterms, and information about how the library has changed this year because of COVID-19.

What advice would you give to students about using the library this semester?
Don't be afraid to ask for help and utilize your resources. I know it can be scary, especially to first years, to find stuff in the library when you're not familiar with the setup, but the people at the circulation desk know the library pretty well and are always available to help direct you if you aren't sure where something is. The Reference Desk is still open for business this year, so don't be too shy to stop by if you need help finding resources for papers, whether it's articles or books.
Also, the Tiger Learning Commons (TLC) is your best friend. Containing the Writing Center, Academic Support, The Quantitative Reasoning Skills (QRS) Center, and Student Accessibility Services, the TLC is the best place to go if you're struggling with anything academically. I know it can be hard to admit you need help and be vulnerable with strangers, but the people in Academic Support (and everyone else in the TLC) are always there to help you do your best when you feel like you're not performing to the best of your abilities.
Do you have any tips for students preparing for midterms?
DO. NOT. CRAM. I know everybody says that and it's sooo tempting to cram, but you're going to really regret it when you crash (and forget all the info you crammed into your brain). Instead of cramming, space out your learning over a longer period of time and tackle a chapter at a time, instead of studying six chapters at once. Honestly, the best people to give tips to students about midterm prep are in Academic Support: Betty Curry and Becca Burt. They can offer you so many tips and tricks to help make midterms (and your classes in general) much less stressful and really help you do well in your classes.
What are some of the most significant changes in the library between last year and now?
I think the biggest change at the library is everyone having to social distance at all times. Usually, the library is a popular meeting place for friends and classmates to get together to study and hang out. Now, due to COVID, it isn't safe to do that anymore. Especially with so many students having to live at home, the library seems so empty compared to last year.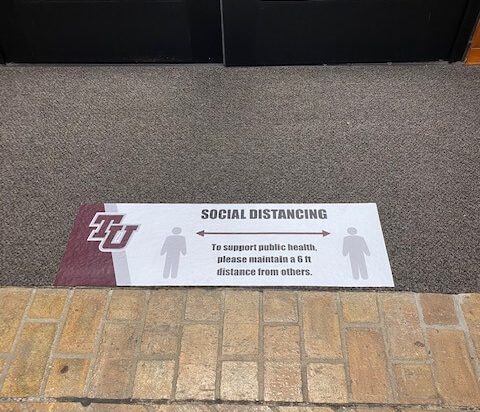 What's your favorite part about working in the library?
My favorite part about working in the library is helping people, especially the first years. I remember feeling absolutely lost in the library when I first came to Trinity, but I was always grateful when I interacted with the library staff because they were so helpful and welcoming. Now, I feel like it's an honor to be on the other side of the desk and help my fellow students navigate the wonderful world of reference. I also want to say that a (very) close second-favorite part about my job in the library has to be my coworkers. I can always count on my fellow circulation desk student workers and the library staff to help me when I need it. They've made such a fun, but productive, work environment for us, and I'm very grateful for it.
What part of the library website do you use the most?
Probably One Search. Whenever I'm looking for resources for papers, I'm usually not too picky if it's from a book or an article online, so One Search is the easiest way to find the information I'm looking for.
Tell us a little about yourself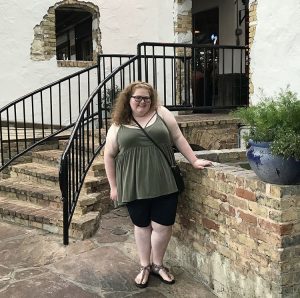 What is your major?
Theatre!!!
Where do you call home?
I've lived in Georgia since I graduated high school, but I'll always call Texas my home.
If you could recommend one book, what would it be?
Ooooooh, that's a good question… I'd probably recommend Zeus Grants Stupid Wishes: a No-Bullshit Guide to World Mythology by Cory O'Brien. The whole book is basically a modern (and not "watered down") retelling of myths from various regions and times. I've been fascinated with Greek mythology since 3rd grade, and even though Greek myth is just a fraction of the book, O'Brien has such a conversational and frank tone throughout the entire book that it feels just like I'm talking to a friend about mythology. It's a beautiful combination of "nonfiction" and storytelling that's always fun to read.
If you could have a superpower, what would it be?
Definitely shapeshifting. I think people always underestimate shapeshifting. Not only could you use it to look like anybody else and disguise yourself, but you can just look like whatever you want to, whenever. Want platinum blonde hair without damage? Done. Want a rainbow ombré that doesn't fade? Done. Want wings so you can fly like a bat? Done. The potential is limitless.