We asked Alden Eckman, Archives Student Worker and Trinity University Junior, a few questions to get to know her better and to tell us a little about her take on using the archives at the library.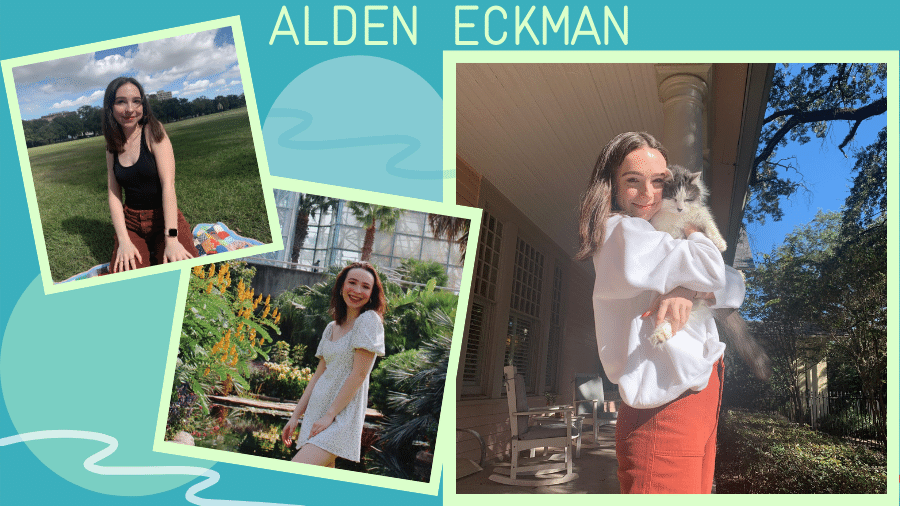 What is your major?
Art History — I am also double minoring in Museum Studies and Arts, Letters, and Enterprise
What do you plan to do once you graduate from Trinity?
I am hoping to pursue a master's degree and career in the archival or museum studies field — that is intentionally very ambiguous because I have no idea what I am doing!!
What are your favorite hobbies?
I love to hike, water my plants, read, sew, hang out with my cat, and have personal dance parties!
Where do you call home?
Houston, Texas
What's your favorite part about working in the library?
I love spending time in the archives and uncovering Trinity history. I have learned so many obscure facts about Trinity — I think I should start hosting Trinity trivia nights!
Is there anything that you've learned about the library that you didn't know before working here?
The archives are open to students and researchers alike! Prior to working in the archives, I was always nervous about going into the Special Collections or asking the archivist for resources. While the reading room is closed now, under normal circumstances, it is a great, quiet space to study. The archivist and staff are here to help you, so never feel scared to ask them a question!
If you could have a super power, what would it be?
I would love to be able to time travel. It would really come in handy in my Art History classes — I could talk to any artist from any time in history and see their works up close!
Please visit the Special Collections and Archives at Coates Library section to learn more and search through the various resources and collections.