The library is celebrating the retirements of five amazing women, each of whom has worked in the library for over 30 years. We celebrate the past retirement of Meredith Elsik and upcoming retirements of Bea Caraway, Bea Carter, Donna Kaminski and Maria McWilliams. We asked each supervisor to give a little background about each person. Below is just a small window into the many accomplishments and tremendous impact each woman has had on Coates Library and Trinity University. We thank them for all they have done and wish them each a wonderful retirement!
Bea Caraway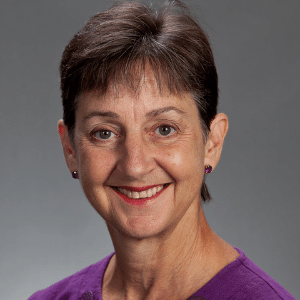 Bea Caraway was pleased to assume the position of serials cataloger at Coates Library fresh out of her master's degree at LSU on June 1, 1990. She did not know anything about San Antonio, but the cataloging work was just the kind she had been looking for, and she thought she could live anywhere for a couple of years until she moved onward and upward. More than 30 years later, she has moved up but not on: She quickly learned that San Antonio and Trinity University suited her very well. Without changing workplaces, she has had the good fortune to serve in a variety of roles in the library, including head of technical services, acquisitions, interlibrary loan, and special collections and archives. Professionally, she is proudest of having published, with Beverley Geer-Butler, the 2nd edition of Notes for Serials Catalogers–at the time a sine qua non of serials cataloging–and of having written a column for Serials Librarian regularly for 25 years. Along the way, she has appreciated working with many fine colleagues in the Coates Library and across campus. Bea will retire on May 31st, 2021. Her expertise, dedication, and kind spirit will be greatly missed. – Chris Nolan, University Librarian
Bea Carter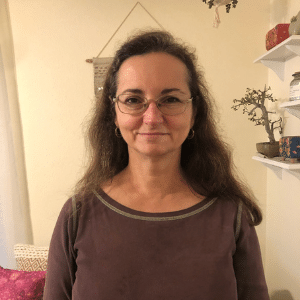 After 32 years working at Coates Library, Bea is retiring on May 31st, 2021. Bea's excellent work has been essential to the mission of the library. Bea has provided key functions in Technical Services over the years in many different areas: acquisitions, binding and preservation, serials, and cataloging. Her attention to detail, reliability, and strong sense of responsibility have kept everything running as smoothly as possible. Her love of learning and natural curiosity is truly inspiring. The library prides itself on providing seamless service to the campus and Bea has been an integral part of that process allowing students the opportunity to pursue academic excellence. She has shown great kindness and consideration to all over the years and she will be greatly missed. – Jane Costanza, Associate Professor and Head of Resource Services and Discovery
Meredith Elsik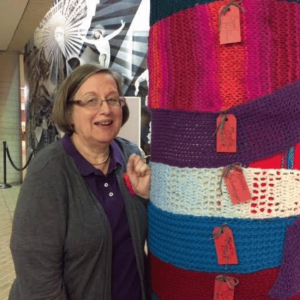 After nearly 35 years of work at the Coates Library, Meredith Elsik has retired as of December 7, 2020. Meredith has been a key member of the library team in many areas, including reference, circulation, interlibrary loan, and special collections/archives. As someone whose Trinity career has overlapped hers in almost its entirety, I can say that her competence, unflappable and cheerful demeanor, thoroughness of assistance, and willingness to do whatever needed to be done have only been exceeded by her caring and thoughtfulness toward coworkers and library users alike. She has been an exemplar of the high quality of service for which Trinity is known, and she will be missed by many. – Chris Nolan, University Librarian
Donna Kaminski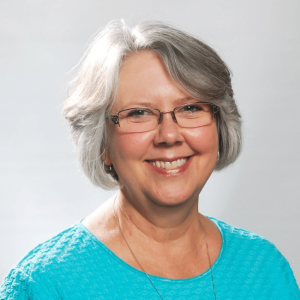 Donna Kaminski came on board in 1979 and has worked in the Coates Library for over 40 years. She has held positions in Circulation, Bindery, Cataloging and Technical Support. Her role has evolved over the years to adapt to changing technology and the needs of a 21st century library, and she has faced every change and challenge with enthusiasm and professionalism. Donna was featured in the book We Can Do I.T.: Women in Library Information Technology, and was the recipient of the December 2019 Helen Heare McKinley Employee Excellence Award.
Personally, I've never met a person with such amazing technical intuition and problem-solving skills. I have worked in technology for most of my career, but Donna has taught me new things every step of the way, and has always done it in such a kind, wonderful way. Alex Gallin-Parisi once wrote, "Donna is that person who obviously knows more than you do, but who will never make you feel stupid."
Donna is a supportive co-worker, a true friend, and always knows how to make everyone feel welcome and special. It has been an honor and a pleasure to work with Donna. Donna will retire on May 31st, 2021, but her impact on the Coates Library and Trinity University will continue for years to come. – Elizabeth Poff, Digital Technologies Librarian
Maria McWilliams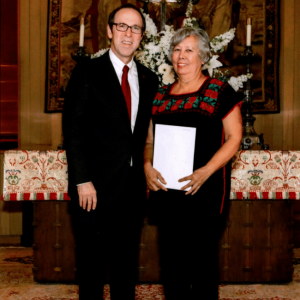 Maria McWilliams, our hard-working interlibrary loan guru, is an institution within the institution! She is as well known across campus as anyone in the library, thanks to her many, many years of borrowing materials from other libraries for everyone who needed them, whether for research, study, or leisure reading. In fact, her name appears in the acknowledgement sections of quite a few books authored by Trinity faculty, thanking her for the part she played. Her exemplary commitment to excellent service tops the list of her qualities, but right behind that comes her dedication to mentoring the many student workers lucky enough to enter her sphere. She has taken an interest in each of them, and they have come to her for comfort, advice, and reassurance. As a colleague, she has offered those who work with her genuine warmth, understanding, and patience, a ready laugh, and a generous spirit. It is with much gratitude and much sadness that we say goodbye to Maria McWilliams.  – Beatrice Caraway, Head of Special Collections and Archives